Razer Blade 17 RZ090423NEC3R3U1 Gaming Laptop 12th Gen Core i7-12800H 17.3 Inch FHD 16GB RAM 1TB SSD NVIDIA RTX 3070 Ti 8GB Win 11 Home
Product Description
Razer Blade 17 RZ090423NEC3R3U1 Gaming Laptop 12th Gen Core i7-12800H 17.3 Inch FHD 16GB RAM 1TB SSD NVIDIA RTX 3070 Ti 8GB Win 11 Home
Buy  Razer Blade 17 RZ090423NEC3R3U1 Gaming Laptop 12th Gen Core i7-12800H 17.3 Inch FHD 16GB RAM 1TB SSD NVIDIA RTX 3070 Ti 8GB Win 11 Home form us at the best prices Razer Blade 17 RZ090423NEC3R3U1 Gaming Laptop 12th Gen Core i7-12800H 17.3 Inch FHD 16GB RAM 1TB SSD NVIDIA RTX 3070 Ti 8GB Win 11 Home  in Pakistan and enjoy our nationwide free delivery, customers from Karachi, Lahore, Islamabad, Quetta, Peshawar, Multan, Faisalabad, Sialkot, Hyderabad can get deliveries within 24 hours.

POWER TO THE PROS
This is a carousel with auto-rotating slides. Jump to a slide with the slide dots button. Use the play/pause button to stop or run the rotation.
"Overall, Blade 17 is a significant milestone. It combines nearly all the best there is right now in the laptop space into one portable machine."
Windows Central
Already know what you're looking for
POWER TO THE PROS
The new Razer Blade 17 is more powerful than ever, while still compact in design and improved thermals the Blade 17 empowers Pros with the latest NVIDIA and Intel processors. Able to withstand performance-demanding AAA games on the go, live-stream video while playing, or create masterpieces the Blade 17 is a powerhouse mobile desktop.
THE LAPTOP FOR DESKTOP-QUALITY GAMING
We're pushing the limits to what a gaming laptop can do. The Razer Blade 17 is built with a powerful processor to run performance-demanding AAA games on the go. We've made it nearly 25% smaller than its predecessor, with a faster 17.3" Display that's fitted into a body as sleek and compact as a 15" laptop.
WORK HARD.
PLAY HARDCORE.
Crafted with up to a 12th Gen Intel® Core™ i7-12800H, the Razer Blade 17's 14-core processor helps it surpass everything in its class and delivers outstanding performance. With a 1.8 GHz base clock that boosts up to 5.0 GHz when more power is needed, it's the laptop of choice for replacing your desktop and taking on the heaviest AAA titles and creation tasks.
NVIDIA® GEFORCE​ RTX™ 30 SERIES GRAPHICS
The Ultimate Play
NVIDIA® GeForce RTX™ 30 Series Laptop GPUs power the world's fastest laptops for gamers and creators. They're built with Ampere—NVIDIA's 2nd gen RTX architecture—to give you the most realistic ray-traced graphics and cutting-edge AI features like NVIDIA DLSS. Plus, Max-Q Technologies unleash the power of AI to make thin, high-performance laptops that are faster and better than ever.
Boost Performance with AI
NVIDIA DLSS gives games a speed boost with uncompromised image quality. Crank up the settings and resolution for an even better visual experience.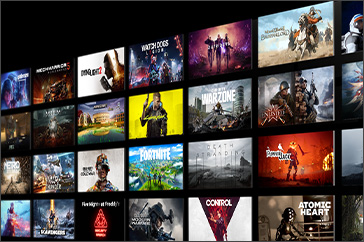 More Immersive Experiences
Ray Tracing is the holy grail of graphics. It simulates how light behaves in the real-world to produce the most realistic and immersive graphics for gamers and creators – and runs fast thanks to 2nd gen RT Cores.
Optimized Power and Performance
NVIDIA Max-Q is a suite of technologies powered by AI that optimize laptops to deliver high performance in thin form factors.
NEXT-GEN DDR5 (4800MHZ) MEMORY
ENHANCED RESPONSE TIMES
Feel the boost with an increase of 1600MHz compared to DDR4, as you enjoy a quicker, smoother experience when loading applications, running games, and performing other everyday PC tasks.
ULTRA-EFFICIENT VAPOR CHAMBER COOLING
OPTIMAL THERMAL PERFORMANCE
All the new-found power the Razer Blade 17 can produce would be meaningless without a thermal performance to match.
Upgraded with more fins, fans, and a larger liquid capacity, the system maximizes its nanoparticle thermal blockers and server-grade components to maximize thermal threshold and squeeze every ounce of FPS out of the laptop.
This system not only allows the laptop to perform at max levels, but also ensures that Razer Blade laptops are able to maintain an incredibly thin form-factor that can't be found anywhere else.
FAST JUST GOT EVEN FASTER
MAXIMIZE YOUR DISPLAY
Get the ultimate gaming and viewing experience with a huge 17.3" screen that barely has any bezels and is factory-calibrated for color accuracy and quality. With options for a Full HD, QHD, or UHD display, enjoy silky-smooth refresh rates no matter what choice you make.
NEXT-GENERATION CONNECTIVITY
Sporting a suite of features including 2.5GbE ethernet and USB3.2 Gen 2 ports, the Razer Blade 17 is designed to be the ultimate on-the-go workstation that can be conveniently charged via USB-C (45W or greater).