Lenovo ThinkVision S24e 62AEKAT2UK 23.8 Inch WLED Monitor
Product Description
Lenovo ThinkVision S24e 62AEKAT2UK 23.8 Inch WLED Monitor
Buy Lenovo ThinkVision S24e 62AEKAT2UK 23.8 Inch WLED Monitor  from us best price of  Lenovo ThinkVision Led Monitor in Pakistan and enjoy our nationwide free delivery, customers from Karachi, Lahore, Islamabad, Quetta, Peshawar, Multan, Faisalabad, Sialkot, Hyderabad can get deliveries within 24 hours.
Lenovo ThinkVision S24e-20 24 inch FHD Monitor (VA Panel, 60Hz, 4ms, HDMI, VGA, FreeSync™, 3-side borderless) – Tilt Stand
Equip your staff with a monitor that will help power their productivity. ThinkVision S24e-20 is an excellent performer that delivers core functionality with a sleek new form factor. Its 1920 x 1080 FHD resolution VA panel display produces vivid images to every one of your colleagues standing around the desk up to angles as extreme as 178°. The compact screen head is twice as slim as its previous generation and sits within a compact 3-side NearEdgeless frame. Place two side-by-side for a seamless visual setup without a big clumsy column breaking the scene. S24e-20 has your staff's individual comfort in mind.
360 Spin
Overview
The ThinkVision S24e-10 is a high-performance monitor specifically meant for your work in office. With a 23.8-inch FHD VA panel, enjoy a wide viewing angle with crystal-clear detail and vivid colors and high contrast ratio. The excellent display performance and functions also optimize your working experience.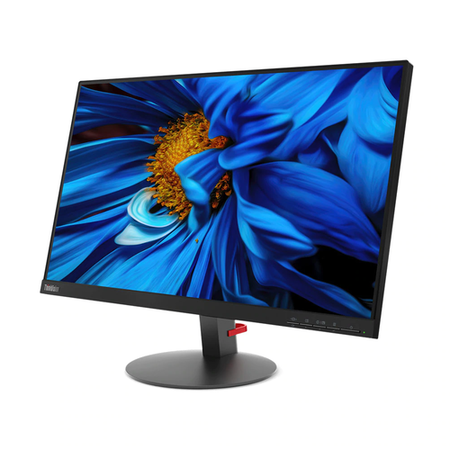 Features & Benefits
With the ultrathin bezel width (side), the NearEdgeless FHD In-Plane Switching display offers an effective solution for a multi-display connection, enabling a seamless visual experience. The multiple ports include VGA and HDMI that lets you expand your capabilities. Choose where you want your monitor, on a tilt-stand or on the wall. Low Blue Light certification by TÜV ensures these displays are easy on the eyes, allowing you to watch much more.