Dell Alienware 17 Gaming 34433425046 8th Gen Core i7-8700 17.3 Inch FHD 8GB RAM 1TB HDD NVIDIA GTX 1060 6GB Win 10 Home
Product Description
Dell Alienware 17 Gaming 34433425046 8th Gen Core i7-8700 17.3 Inch FHD 8GB RAM 1TB HDD NVIDIA GTX 1060 6GB Win 10 Home
Buy Dell Alienware 17 Gaming 34433425046 8th Gen Core i7-8700 17.3 Inch FHD 8GB RAM 1TB HDD NVIDIA GTX 1060 6GB Win 10 Home from us at the best prices Dell Alienware 17 Gaming 34433425046 8th Gen Laptop in Pakistan and enjoy our nationwide free delivery, customers from Karachi, Lahore, Islamabad, Quetta, Peshawar, Multan, Faisalabad, Sialkot, Hyderabad can get deliveries within 24 hours.
FEATURES & DESIGN
OPERATING SYSTEM
With Windows 10 Home – Break down boundaries and immerse yourself in the game with graphics more realistic than ever before thanks to the multi-thread scaling capabilities of the new Alienware 17.

DESIGNED FOR VR.
Dive into mind-bending virtual reality experiences with a VR-ready system that passes the Oculus Ready and Vive Optimized certifications.
Powered by NVIDIA® VRWorks technology, a new level of presence is achieved by bringing physically realistic visuals, sound, touch interactions, and simulated environments to virtual reality. And with NVIDIA® GeForce® 10-series graphics, the Alienware 17 goes beyond what's expected.
HIGHER PERFORMANCE INSIDE AND OUT.
Built with premium materials and up to 8th Gen Intel® Core™ i7 and i7k-Series processors, the Alienware 17 is the ultimate evolution in high-performance gaming technology. Utilizing magnesium alloy for rigidity, copper for better performance, anodized aluminum for extra protection and steel for tactile comfort, it features a high-quality design for high-performance gaming. And with support for up to NVIDIA® GeForce GTX 1060Ti, overclocked CPUs at 4.4GHz, and high-speed DDR4 system memory capable of up to 2667 MHz, you can experience gaming on a whole new level.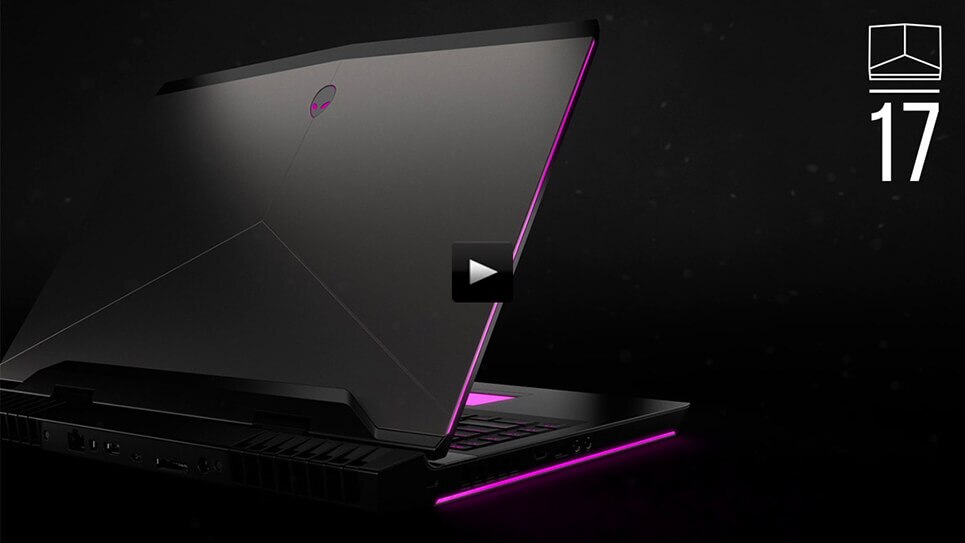 A REVOLUTIONARY NEW WAY TO USE YOUR PC.
Tobii Aware software enables new gameplay functions for a completely unique user experience. Let your eyes be the controller and lose yourself in the game.

Realistic gaming functions: Armed with knowledge about your presence, eye movement and corresponding head movement, Tobii eye tracking enhances your games, including Tom Clancy's The Division, Watch Dogs 2 and Assassin's Creed Syndicate, so you can input commands that are more in tune to real life. Aim where you look, signal teammates with a glance and navigate a cockpit freely. See the fullSystem intelligence: Armed with more information about you, including your attention and position in front of the laptop, your machine can now optimize power usage and even trigger more advanced security profiles. A groundbreaking new feature exclusive to Alienware machines.
Game coaching: With new exclusive Overwolf apps, replay your gaze pattern and see where you went wrong. Learn from your mistakes, find new opportunities and crush the competition.
Windows Hello: A revolutionary HD resolution camera with an IR sensor and facial recognition technology allows you to log in with just a look.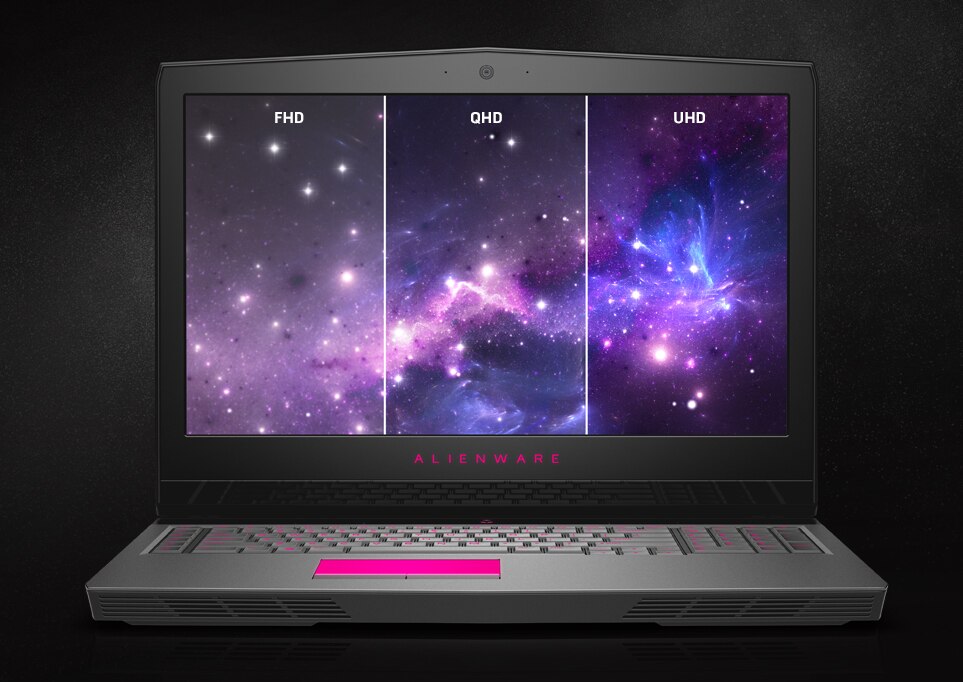 NOTHING BETWEEN YOU AND GAMING.
Witness the difference an expansive 17-inch LCD screen can make with supported FHD, QHD 120Hz and UHD resolution options – all with anti-glare finish.
The 17″ QHD 120Hz display is designed to deliver the smoothest gaming experience with a 4-millisecond response time​, wide viewing angles and 400 nits of brightness. The UHD panel offers a 100% color gamut for an incredible, saturated range of reds, greens and blues (compared to the 72% offered by QHD and FHD).
NVIDIA® G-Sync technology, available on select models, delivers the smoothest, fastest experience ever thanks to synchronized display refresh rates to the GPU in your GeForce® GTX-powered PC, eliminating screen tearing and minimizing display stutter and input lag.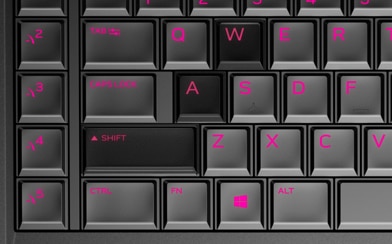 A KEYBOARD LIKE NO OTHER.
With an upgraded Alienware TactX keyboard, n-key rollover is now supported, enabling over 108-key commands for maximum actions per minute. It's the only keyboard on a laptop with 2.2mm of key travel allowing for rapid response for any keystroke. Reinforced with a steel back plate for rigidity and uniform feedback with a guarantee to stay functional for up to 10 million keystrokes.
Create a more personalized look for your machine with new and improved AlienFX. Designed with optimized RGB-LED enabled AlienFX lighting and now supported on over 130 games, with the option to create and download unique themes.
METICULOUSLY DESIGNED TO DELIVER A KNOCKOUT PERFORMANCE.
An innovative hinge-forward design brings the thermal shelf to the rear, enabling a variety of improved benefits – like a thinner design, better ventilation, higher quality sound and external ports organization – to stand out for an incredible gaming experience.